Gynecomastia surgery in Malaga
Gynecomastia is the term used to define the growth of breast tissue in males, which can occur in one or both breasts. It often leads to significant discomfort due to the feminine appearance of the breasts. It is caused by the proliferation of mammary gland tissue in males. There can be various causes, although the triggering factor is often not identified.
The surgical technique used varies greatly depending on the amount of tissue that needs to be removed. Pseudogynecomastia refers to male breast growth primarily due to fat rather than mammary gland tissue, and in these cases, liposuction is the treatment. Dr. Javier Collado will guide you on which technique best suits your case.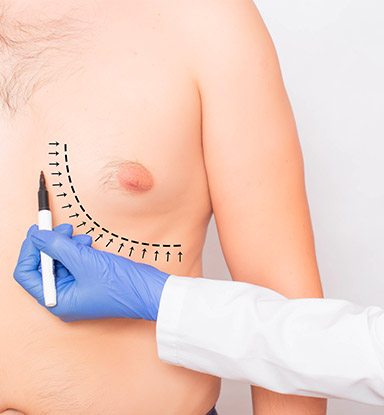 Duration
Between 1 and 2 hours.
Anesthesia
Local with sedation or general.
Recovery
2 to 3 weeks of recovery.
Gynecomastia surgery in Malaga with the best results
Gynecomastia treatment is of interest to men with increased breast volume. The best results are usually achieved when the patient's skin is elastic and firm. If not, it may be necessary to remove the mammary gland and part of the skin to address this.
In many cases, the procedure may need to be complemented with liposuction of the breast to reduce the amount of fatty tissue around the gland. Once excess subcutaneous tissue has been removed, the need to remove excess skin to tighten the breast will be evaluated.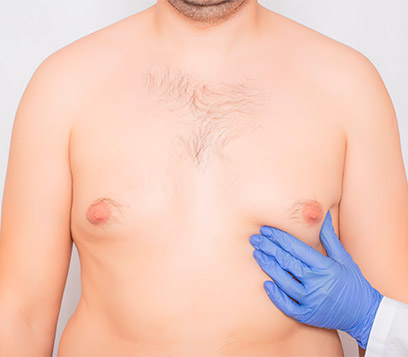 Gynecomastia specialists.
Learn about the benefits of this procedure
Some notable benefits of gynecomastia can be highlighted as follows:
Flatter and aesthetic chest.
Increased patient satisfaction and self-esteem.
Natural and lasting results.
Enjoying beautiful and well-cared-for breasts.
Postoperative instructions
During the first week, the patient should wear a compression garment provided by the doctor.
After the first week of the procedure, at one month, six months, and one year after.
Following a Mediterranean diet can help prevent gynecomastia.
Moderate effort during the first week.
Frequently Asked Questions
It involves removing excess glandular tissue through an incision along the lower edge of the areola. Not all the glandular tissue should be removed, as it could result in a sunken areola-nipple complex or an undesirable contour defect.
Patients typically do not complain of pain in this procedure, as there's no need to manipulate the pectoral muscle. In the first week, rest is advised, and the patient should wear a special bandage or compression garment provided by the doctor.
Individuals who are overweight or obese. It's important to initiate a healthy diet and exercise routine for these patients.
People who frequently consume alcohol, anabolic steroids, or substances like cannabis. In such cases, it's necessary to wait and see the effects on the body after eliminating these harmful habits.
Thanks to anesthesia, you won't experience any pain.
By following the advice of Dr. Javier Collado, the incision marks will fade over the months.
Thanks to advances in the field, the vast majority of cases are resolved with a high degree of patient satisfaction.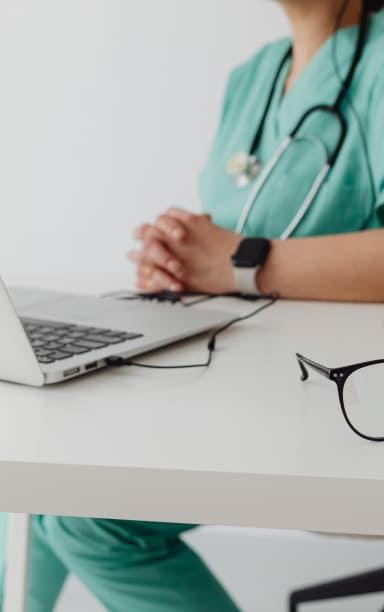 Opinions of our patients
Olga García
16 | 11 | 2022
Rhinoplasty
Very happy with the result. Javier and his entire team are excellent professionals. Furthermore, the treatment has been unbeatable and very close from the first moment. I had many doubts about whether to have surgery or not and I have to say that I regret not having done it sooner, since the result is fantastic and I have not had any pain. I had a rhinoplasty, I definitely recommend it 100%.
Noelia Bonilla Medina
16 | 11 | 2022
Dr. Collado has restored my happiness. He has blessed hands and what he touches he turns into beauty. Thank you doctor for giving me back the desire to fight, I loved your work. When I look in the mirror, I am very happy. Thank you.
María De la Rubia Cañete
16 | 11 | 2022
Mastopexy
A month ago Javier changed my life, he performed a mastopexy on me and I am the happiest.
As soon as you meet him you know that he is the one who has to operate on you.
Victoria Calderón
16 | 11 | 2022
Without a doubt, Javier has impressive hands as a surgeon. My experience has been very positive due to the care and advice before the operation. I will always recommend you.
Alicia Valiente Gamez
16 | 11 | 2022
Mastopexy
I had a mastopexy on January 10 and I am very happy with the result. They were perfect, since my chest was quite bad, which is why I value the work done by Dr. Javier Collado much more. He is kind and sincere, and treated me very closely. I am very satisfied with the result and with my choice of surgeon. Thank you!
Luisanna Holley
16 | 11 | 2022
Mastopexy
I had a breast augmentation with a prosthesis almost 3 years ago at Quirón Marbella. To date it has been the best decision I have made. My surgery was great. Doctor Javier Collado is very professional. The result exceeded my expectations!
🙏🏽 Thank you always doctor. I have no hesitation in returning to him for any future breast surgery.
Antonella Dotti
16 | 11 | 2022
Now that it has been a year since I had my nose done with Javier Collado, I can say that he is an excellent surgeon (10/10). The first months after the surgery everything was very swollen, especially the tip, but now that a year has passed and I can really see the result, the tip is perfect, the septum perfect. Plus, the size of the nose fits my face perfectly. It's exactly what I wanted. All perfect. Thank you very much Javier.
Anonymous
22 | 06 | 2018
On the 17th, I underwent an abdominoplasty with Javier Collado and my dreams have come true. I wish to thank him for his professionalism and for being so humane. I would recommend him to everyone.
Yolanda
22 | 06 | 2018
I decided to put myself in the hands of Dr. Javier Collado because of the confidence he emitted from the first moment. In 2016, I had an abdominoplasty and, in 2017, a mastopexy with prosthesis and a thigh lift. The results have once again been excellent.
Yolanda Fuillerat González
22 | 06 | 2018
I visited at least 10 surgeons before deciding and just from speaking with Javier, I knew I wouldn't make a mistake by putting myself in his hands. I had breast augmentation surgery 16 days ago and… I'm delighted! I am having a very good post-operative period and I love the result.
Maribel López
22 | 06 | 2018
I only visited, with him, 3 surgeons. However, when I went to his consultation with my husband, we were captivated by his sincerity and kindness. I have only had the operation for 5 days, the postoperative period is going very well with a breast reconstruction with implants and an abdominoplasty that has exceeded my expectations.
Jesús Manuel García Montaño
22 | 06 | 2018
It's been three days since Doctor Collado operated on my chest and I'm super happy! Thank you.
Best plastic surgeon
*
in Spain